The Orange County Press Club is proud to present a live virtual discussion for the 2021 Sunshine Week.
This discussion will center around the current state of seeking public records and accessing local government open meetings amidst the COVID-19 pandemic. The panel will be held from 5 to 6 p.m. Thursday, March 18 and will be streamed publicly on the Press Club Facebook page.
The virtual discussion is timed with Sunshine Week, the 16th annual nonpartisan and nationwide effort to bring to light the state of reporters and the public in accessing public documents and meetings. Accessing such information is vital to journalists and the public being informed and engaged with quality of life debates and decisions.
The debate will be moderated by OC Press Club Board Member Daniel Langhorne. He is managing editor for the Laguna Beach Independent and engagement editor for The War Horse, a nonprofit newsroom.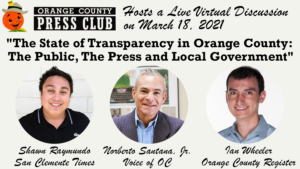 Panel guests include:
– Norberto Santana, Jr. who is publisher and editor-in-chief of nonprofit newsroom Voice of OC and president of CalAware.
– Shawn Raymundo who is city editor for the San Clemente Times.
– Ian Wheeler who is a reporter with the Orange County Register.
The Press Club encourages the public, professional journalists and students to submit questions ahead of time by emailing [email protected] Questions may also be asked live on Facebook during the discussion.